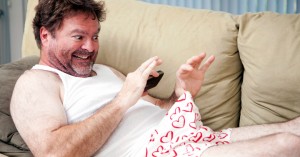 When you're sending sexting messages it can be difficult to know what to say. You can't see the other person so it's hard to judge if they're liking how it's going or if you're just turning her off. She may act like she's enjoying it just to make you happy but that's not good enough; you want her loving every text she gets from you. Use these sexting tips to make her horny and wanting you.
1) Take Your Time
Women enjoy the build up more than men do so don't rush straight to sex talk and give a little verbal foreplay. Talk about kissing her neck, slowly sliding her panties down, striking her arm and so on. The more time she has to get turned on the more fun she'll have and the better her orgasm will be.
2) Be Descriptive
Women tend to be less visual and more emotional when it comes to getting turned on. Don't use vague phrases like "You're so sexy." Be descriptive with your words so she can imagine what's happening and really get into it. If she enjoys it then she'll want more of it and will be the one initiating sexting next time.
3) Don't Get Too Dirty Too Fast
Not every woman enjoys the same thing when it comes to sex so keep your sexting to the specific woman's comfort level. Does she enjoy kinkier stuff like being called a slut? Then go for it but don't sext a woman using words like that if you're not sure if she'll like it or be offended by it. Test the waters by using a few naughty terms and see how she reacts then get dirtier as things progress.
4) Tell Her How She Makes You Feel
Women like knowing that their man is turned on by something she's doing. Say things like "You're making me so hard, I love it when you say things like that." This gently lets her know that you like it and want to keep going.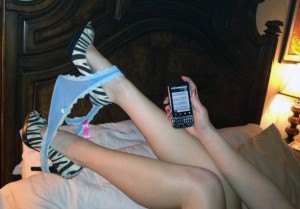 5) Let Her Make Suggestions
Don't take control over the conversation and make sure you let her come up with a few naughty ideas of her own. Ask an open ended question like "And then what do you want me to do?" or "Mmmm, I like that. What other naughty things are running around in your head?" This reinforces the idea that sexting is fun for both of you and that you care about her fantasies too.
6) Suggest Something New
While sexting you could ask her to do something that the two of you haven't done before. It could be an action like pinching and kneading her nipples or a new sensation like using ice cubes. She might be too shy to do it in front of you but will be more likely to try it when she's alone and doesn't have to worry about looking silly. This will get her used to it and you could bring it up the next time you hook up in real life.
7) Teasing Pictures
Sexting isn't complete with some pictures being sent but don't show everything at once. Send her a few pictures to getting her mind going such as a shirtless pic or you wearing boxers while putting your hand over your bulge. It makes her think about what you're doing and she'll start thinking about what you look like with the rest of your clothes off.

Latest posts by Katy Benett
(see all)