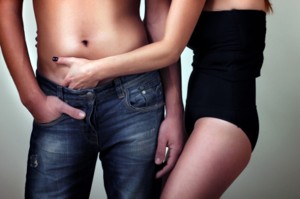 Dates can be fun but every once in a while you need to spice things up and add a bit of excitement to them. If you're in the mood to get naughty with your partner come up with a few ideas of your own or go to a site like getnaughty.com for inspiration. To get your creativity flowing here are 5 ideas for you to try the next time you want a naughty date.
1) Have Fun With Food
After a romantic dinner take things into the bedroom and bring along some fun food like whipped cream or chocolate sauce. Spray the whipped cream on her breasts and slowly lick it off or drizzle the chocolate sauce over her breasts and stomach and lick it off while fingering her to give her two different sensations. Pour the sauce slowly to avoid making too much of a mess because you want it to be on them and not the sheets and focus on what you're doing to them. Listen to the moans they make so you know where they like being touched and licked. Drive them wild by giving long slow licks or teasing little flicks of the tongue.
2) Act Out Your Fantasies
Everyone has fantasies of having sex with someone they're not currently dating. It may be someone they know like an ex or a stranger like a celebrity. It may even be an occupation fantasy like a nurse, teacher or cop. Talk to your partner one night and share your fantasies with each other then surprise them a few days later by doing a role play. You can use props, costumes and mannerisms to add to the realism of it.
3) Have Sex In Public
Having sex in public is a great way to get naughty and up the excitement level. Most people have sex at home so being in a new environment will make things feel fresh. The risk of getting caught will also add to the experience and give a rush like no other. Find a secluded spot and move to the backseat to have sex under the moonlight. If you're not that adventurous then park somewhere and keep your clothes on while giving a blow job.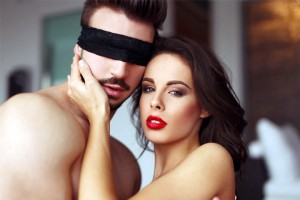 4) Give Kink a Try
Surprise your partner by gently introducing kink to the bedroom. If it's something you've done in the past then take things further and try something new. If vanilla sex is what you usually go for then ease into kink by using handcuffs and a blindfold.
Let them lie there and have the anticipation build while you touch them in the dark. When they're desperate for more snap on the handcuffs and let the real fun begin.
5) Try a New Position
There are lots of different sex positions out there so choose one or two and give them a try. Instead of missionary try doggy style for deeper penetration or 69 for a new experience. Look up sex positions online or buy a book like the Kama Sutra. You can pick out a new position with your partner so it's something you decide together or you can choose one yourself and during sex wait for the right moment to change things up.

Latest posts by Katy Benett
(see all)