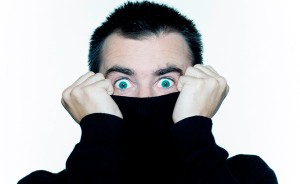 Make profiles on multiple adult dating sites as this will allow you to be in complete control of who you approach and when you approach them.  And it all happens in a low pressure environment.
Fine tune your profile over time so that you can put your best foot forward. You can learn what works best for you without facing the sting of direct rejection. You can also attract people you are more likely to want to engage with.
Use the search features of adult dating sites wisely as it will enable you to find good matches, people who share your interests or your desires.

 

It's not always easy to figure out if you have something in common with someone if you are meeting in a bar or club.
Once you've found someone you're interested in, arrange meetings where you feel most comfortable and confident to help make things less stressful. If you're on your own home turf, you feel more relaxed and make a better impression.
After you've first made contact with someone, keeping in touch through the adult dating website's messaging system is a low pressure way to maintain interest and set up further encounters. If you're still nervous about things, chatting online has enough immediacy to allow flirting, but also allows you to gather your thoughts without feeling too rushed.
There a lot of other shy people online, so when you're hesitating to contact someone, remember that they might be just as shy as you. Imagine what kind message you'd like to receive if you were in their place.
Try to enjoy the experience of talking to people and meeting people. There's something to be gained from every encounter, however brief. Take what you learn and make the next message or meeting even better.

Latest posts by Katy Benett
(see all)