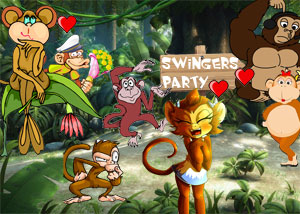 Excelent methods for swinging lifestyle
If you and your partner have decided and agreed upon becoming swingers, you'll need to learn the dos and don'ts. The last thing you want to be is that couple who enter into the swinging lifestyle and totally do it all wrong! Believe it or not, there is a certain method to becoming a great swinger, and once you become one, you'll experience new pleasures you never thought possible!
So now that you're ready to embark on your new sexual journey as swingers, it's time to learn how to do it and do it well. First, you have to realize that the swinger lifestyle is a community of like-minded people that are open with their sexuality and seek pleasure (not just for themselves, but for others, too). Like any other group or community, respect is a vital role for its members to thrive. One thing many who get into swinging get wrong is that they forget to be respectful of the wishes of those involved in the swinger community.
You don't want to come off too strong right out of the gate, since people won't be interested in swinging with you. And if you do, the community can readily deny you from participating in parties and no one will want to add you in bed. When you first enter a new swinging community, relax and be friendly.
A Swinging Lifestyle requires people to get go of their inhibitions and this is what you'll need to do. You'll need to learn how to unleash your sexual desires and just let all your fears and concerns with sex go straight out the window! Once you do, you'll find a new side to your sexual self that you didn't even know was there in the first place.
If you don't know where to find swinging communities, look no farther than the web! There are numerous swinging and adult dating websites and forums you can join to get information on parties and groups. However, do be cautious of what sites you join because there are lots of swinger dating scams out there on fake swinger sites (read our Adult Dating Comparison). Once you join a couple of legit ones, use multiple sites at once for better results. Make sure you create an interesting and exceptional profile that will make the right first impression.
When you finally do get a message from a couple wanting to join you and your partner (or if you're single, want to add a third wheel to the fun), it's then time to think about where to meet. Usually a hotel bar works well since you'll probably use a hotel room to get the party started. But meeting in any public place to break the ice usually works, too. You can easily choose to meet at your home, but you might not want them to know where you live, which is why a hotel is a safer and better choice.
Once you get the hang of the swinging lifestyle, it'll be like second nature for you. Swinging isn't for everyone, but if you and your partner enjoy it, you're in for quite a sexual treat!

Latest posts by Katy Benett
(see all)