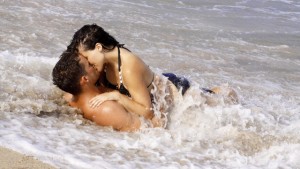 Summer is a great time to meet someone new and have a fling. It's normal nowadays for people to find someone online for nothing but sex and I'm sure most of you have been to at least one adult dating site in the past. The best adult dating sites to use if you only want to get laid are the free ones that don't require payment. The people on there are mostly looking for something casual and there's always someone new signing up. If you want a summer to remember with lots of fun sex you're going to need a profile that gets you noticed. Here a few things you can do to get what you want.
Be clear about what you want. No one likes surprises so if you're only looking for sex then say that. It might turn some people off but you hinting about having sex ten minutes into the date will do the same. Don't worry those who are looking for casual hook ups will get in touch. Be honest in your profile. Use your actual photo and make sure it's a good one. Are you a man that goes to the gym and keep fit? Take a picture of yourself topless but in a relaxed setting, maybe at the beach.
Don't do a cheesy picture of you naked in front of your bathroom mirror. Women are so used to those that they just skim right past them. Smarten yourself up. Get a haircut, if you're a man then shave, wear nice clothes and smile. Make yourself look like attractive and like you're a great catch. Gloss over your negative features and highlight your good ones. Unemployed? Skip that box where it asks what you do for a living or mention what you did in your last job. Rate your looks? Never choose average because no one wants someone who is just average. Are you into bdsm? There are sites that cater to your desires and you can hook up with someone who shares the same kinks as you. There are a lot of people on those sites who are just looking for a sex partner. If you have any specific interest that isn't kink related (single parent, extra marital affairs etc.) try a dating site that is only for people with that interest. Be prompt and serious. If someone is online right now and they send you a message then reply back. Don't think about it, you can always change your mind if you don't click after a few messages.
The reason they're on the site right now is because they're either bored or horny, probably both. Grab their attention while you can and see if they want to hook up. Know when and where you can meet and let them know. If you hum and haw about meeting they'll think you're just a timewaster. Be careful. Make sure that the person you're hooking up with is real. You can Skype with them or exchange numbers. Meet at a hotel so they don't know your address and always use condoms. This is all about getting laid and not dating. They don't need to know all about you.
There are a lot of adult dating sites you can use to get laid this summer so don't limit yourself to just one. Try a few different ones so more people have a chance at seeing your profile. Follow the tips you've been given and have a Summer of Sex.

Latest posts by Katy Benett
(see all)