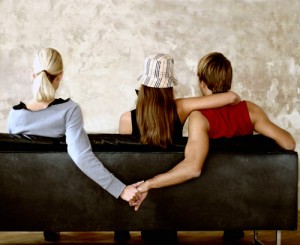 Sometimes your relationship needs a little spice your spouse can't provide. You miss the freedom of your single days, meeting someone in a bar and hooking up. You can still have your fun, you just need to be a bit more discreet about it. Obviously going home with someone for the night is out, but that doesn't mean you can't have a whole lot of naughty fun when you're supposed to be somewhere else. But you have to be careful. Don't let your playmate know you're married, they can use it against you, and definitely don't tell them where you live with your spouse. Don't want them showing up to make a scene. Always use protection during your forbidden sex hookups, don't want to bring any surprises home to your spouse. STDs and pregnancy are a dead giveaway that you've been playing around. Keep your phone locked, and delete any naughty texts or pics you receive. Your SO borrows your phone to make a call, you don't want them to find anything that might incriminate you. Keep your phone out of their hands as much as possible, don't let them go through your pics or email. Sexting can be erotic and titillating, but it can also get you in a lot of trouble if you don't clean up your mess after.
Be as loving and affectionate as usual with your SO and make sure to shower before you see them again after you've had your fun, even just making out can leave someone's cologne or perfume all over you. You don't want to slip up like some 50s business man with lipstick on his collar. Tell your playmate not to leave marks, no love bites, no scratching, no bruises from fingerprints. Those are all dead giveaways if your partner doesn't remember leaving them on you. If you hook up in your car, make sure that you don't leave anything incriminating for your partner to find. A pair of lacy panties or a men's watch under the seat could be the cause of a major blow up.
Make sure the person you pick for your extramarital fling can be trusted, if you do tell them you're married. Last thing you want is major drama. Also, if they start to get attached and you decide to break up, then that's a whole other problem, they can get clingy and pushy and demand that you leave your spouse, and who wants to break up a good thing for a piece on the side. So again, I fully suggest complete discretion, don't tell them more about your home life than you have to, or make up a creative tale of why a single person can't bring their hookup home. Pay for motels, go to their place, say you've got a room mate that is a prude. Do whatever you need to. You want to make sure you can keep your SO happily oblivious that you need a little something extra on the side, and you can be free to play the field.

Latest posts by Katy Benett
(see all)