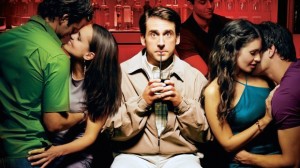 A lot of men turn to online dating as a way of getting laid without the hassle of going out to a club and hoping they get lucky. The downside is that they're not always successful because they haven't perfected the art of using dating sites. If you just take a bit of time and do things the right way you can find yourself getting laid with a different woman every week by using online dating.
In order to make your profile attention getting and obvious that you're only interested in hook ups you have to make it simple. Post a couple of normal pictures and a few semi-naked ones if you're in good shape. State that you're not looking for anything serious and say that you're willing to meet whenever they want. This will stop women who are interested in an actual relationship from contacting you and the ones who are interested will know that you're serious. Reply to any messages you get because you never know where it will lead but also spend time messaging women. A lot of online dating sites will have a section where you can see which members were online last or have the profiles say the last time that the person logged on.

Take a look at these to help you decide who to message. You want to only message the women that have been online recently because those are the ones who are still looking for someone to hook up with. When you've chosen a few women that you're interested in come up with a quick but polite message introducing yourself. Check to see if the dating site you're using has any restrictions on the number of messages you can send. Some of them only allow you to send a certain amount in a 24 hour time period and if you send more than that it could get you blocked from sending messages for a while or get your account suspended. Send your message to as many women as you can and wait to see which ones reply back. If you're talking to a woman that you're not really into after all then break things off and move on so you don't waste time with her. If you've got a couple of women you like and they're interested then don't pick just one. Keep in touch with all of them and don't commit yourself to any of them. You don't know if they'll change their minds and you'll want a few back ups in case that happens or to hook up with at a later time.
Keep things light and fun while making sure they get the point that you're not ready for a serious relationship. By keeping things casual you have a better chance of keeping the women from finding out about each other and they're less likely to get their feelings hurt if they do end up finding out. Play around with sexting to get them thinking about having sex with you and gently suggest when they'd like to meet. You don't want to be too pushy but you also want to hook up before she loses interest.
It is possible to get laid every week just by doing nothing except spending a little bit of time online. Keep your online dating profile active and up to date while making sure to message new members to increase your chances of finding someone new to meet. Once you get the hang of it you'll be finding yourself getting laid every week or more often if you're lucky.

Latest posts by Katy Benett
(see all)