Dating ideas in New York City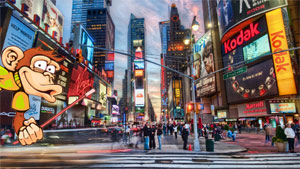 Dating is like a must-do thing for a couple, old or new ones! Going to a movie, sipping a glass of wine, or simply enjoying the river flow by the bridge; these are some of the simple yet memorable things you can do for a date out.
In New York, there are plenty of innovative spots for dating and those places have been confirmed by lots of couples and become their list of suggestions for those who can't think of one. Here are the perfect spots in NYC for your dating time – that you won't get bored for sure!
1. The Jane Hotel's rooftop bar
If you are into classy fine dining, Jane hotel opens its rooftop for you to enjoy. The bar provides comfy sofa and breathtaking sunset view for those who are madly in love! This night time spot has been reviewed by Vogue Magazine as one of the best dating places in town. Be sure to make a reservation for your dinner date!
2. Jazz Lawn Party
Even as a couple, you can get bored with the routine of movie date. This is probably an eccentric way to have a date but this will give you the best experience. Why not join the flappers and sweat a little bit with your dearly one. The event takes place on Governors Islands and with $70 for two, you can dance along with other couples, sip cocktails and taste the yummy dessert!
3. La Follia
Looking for a taste of Italiano in New York? You can go to La Follia. This restaurant offers plates of delicious Italian cuisines plus comfy and cozy spot to get to know your date better. If you are a big fan of pasta, La Follia's is highly recommended!
4. Time Square
This may be the New York's landmark and often times, it's filled with people no matter what season you are in. But the Time Square gives this unique ambience that somehow let's you stick together with your date if you don't want to get lost in the crowd. It's not a romantic, quiet place but watch as your guy kisses you in the middle of Time Square! You will surely never forget that!
No matter how many years you have been in a romantic relationship, you need to add sparks on your romance and 'refresh' the love of each other! Have fun!
We recommend Adult FriendFinder if you are looking for adult dating in New York City.

Latest posts by Katy Benett
(see all)