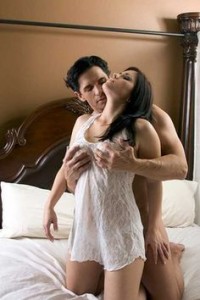 There's probably only one reason you've been on an adult dating site: sex. That's the main reason for those sites yet it can be tricky when it comes to asking for sex from someone that you've connected with. You need to phrase how you ask for sex carefully; what you say could turn them off completely or it could lead to a night of hot sex.
The first thing to remember is: first impressions matter. Don't send a message blatantly saying "I want to have sex with you." along with a picture of you naked. It comes across as too pushy and can be a huge turn off to the person you're talking to. This is especially true if you're a man messaging a woman; they get dick pics from nearly every guy that contacts them and are used to guys going straight for sex. They know you want it and they want it too, they're just not as direct about it. Take your time and wait for them to ask about exchanging pictures then send a naked picture. Talk to them like you would if you were having a conversation in person.
Just because the conversation is sex based it doesn't change the fact that you're talking to another person who has feelings too so don't treat them as just a way to get laid. No one likes to feel used and that approach will likely lead to your message being deleted. Instead of asking for sex be subtle and say "Would you be open to having sex on the first date?" This isn't demanding and gives them the option to take some time and think about whether or not they're interested in sleeping with you. If they do express a desire to have sex with you then ask them some leading questions such as what kind of things do they enjoy or what are their expectations for your hookup. This shows that you are interested in their feelings and not just glad about finding someone to sleep with. It also lets you know what they want so you can get a feel for whether or not you have similar sexual interests. If they ask about your preferences then be honest. If you have a fetish and are looking for someone to do it with then tell them upfront about it and give them a way out in case it's something they're not comfortable with.
For example: "I should let you know that I have an interest in latex and would prefer someone who does too." Look at how the other person responds and gauge their feelings to guide your own replies. If they seem excited by what you're saying then expand on it, give them details of what you like to do and see what their limits are. Once you know that sex is on the table make arrangements for when and where to meet before they lose interest.
It can be difficult if you're on an adult dating site and looking to date someone or have a hookup. You need to choose your words carefully and make sure you don't turn them off. Be polite and respectful while going after what you want. Everybody likes sex and you will have to ask for it at some point, just try to do it in a way that ensures you get it.

Latest posts by Katy Benett
(see all)