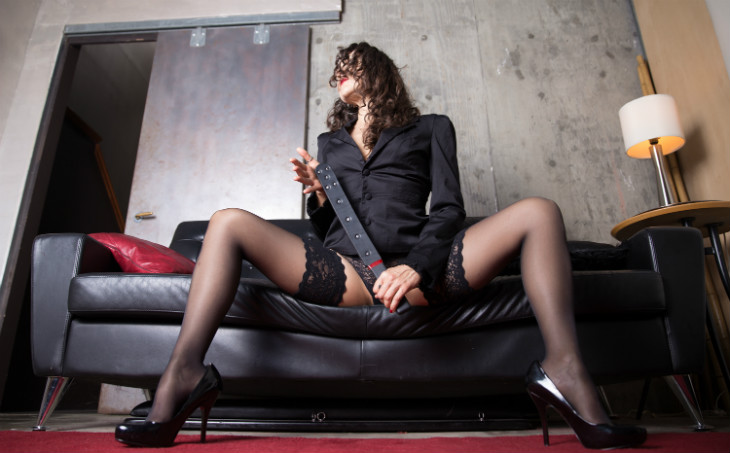 Vanilla couples can get tired of their sex life and will need ways to spice things up. Dirty sex is a good way to do this but there are kinkier ways too like light bondage and sensory deprivation.
1) Spanking
Spanking can add a hint of pain or a lot of pain to sex depending on how hard you are. You can pull them over your lap and start off with light smacks then gradually build up to a harder spanking because this will make their ass more tender so the harder smacks will be more painful.
2) Choking
You can choke your partner during sex to give them a rush because the pressure on their neck sends fear through them even though they know they're safe. While you're having sex with them lightly put your hand around their throat and slowly squeeze then lighten your grip. don't do it too hard because they need time to get used to it and you don't want to hurt them.
3) Light bondage
Use handcuffs to restrain her to the headboard or bondage tape to tie her arms behind her back so you're in control of her body. You can then use other toys like a paddle, feather tickler or a ball gag to push her boundaries.
4) Sensory deprivation
If you want to make them wonder what you're going to do them and coming up with all sorts of naughty ideas then you should try sensory deprivation. Use a blindfold and gag to take away her two most important senses, sight and speech, during sex. You can also use ear plugs to take away her hearing so she can't try to use it to figure what you're doing.
5) Latex
Latex looks sexy and it's also a good feeling when rubbed against skin. She can wear a latex catsuit and you can rub your hands over her body or she can wear latex gloves and give you a hand job. Some catsuits have an opening at the crotch so she can keep it on during sex.
6) Candle wax
Candle wax is good if pain excites you or you can handle a lot of it. You need to lie still while she holds the candle a good distance above you before slowly tipping it onto your body. The torso is a good area because it's wide and by holding the candle away from it the wax won't burn as much because it cools as it falls.
7) Pegging
Women and men both enjoying giving and receiving anal sex so pegging is a way to change things up. She can wear a strap-on and show you who's boss by giving you anal. She can do this in the missionary position and stroke your dick or she can do you doggy style but there are other positions depending on how flexible you are.
8) Role play
Role play can be rough and kinky instead of fun and playful by adding toys or using different scenarios. You can do a kidnapping Role play where you grab her, put your hand over her mouth, tell her to keep quiet then drag her to the bedroom. Tie her up and have sex with her or make her give you oral while begging you to let her go.
9) Sissification
Some men enjoy humiliation and sissification can be a way for submissive men to be completely open to their partner. You're going to feel vulnerable as she dresses you in lingerie (or other feminine clothing) and makeup then turns you into a pretty princess for her to use and abuse.

Latest posts by Katy Benett
(see all)