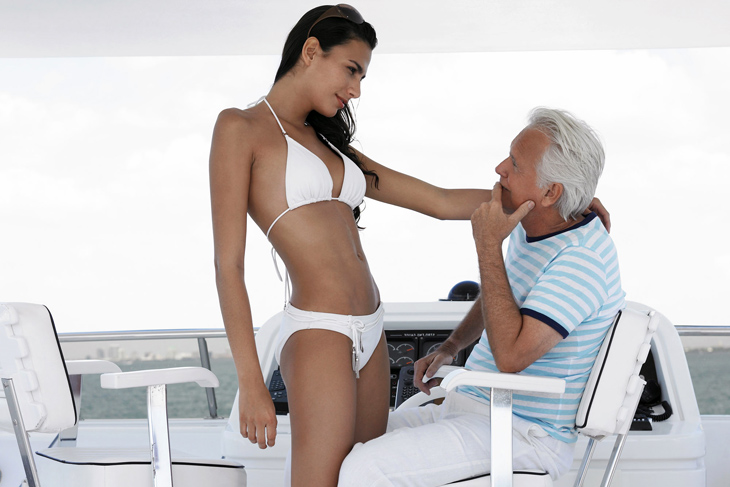 An old man might think he doesn't stand a chance when it comes to dating a beautiful woman but it is possible if he makes the right moves. By making the right impression and showing confidence it will be just a matter of time before his dating life picks up and others are looking at him with envy.
A lot of men who are over 40 feel like they're not as attractive as guys in their 20's or 30's. They're not as young anymore and maybe not as fit and they feel self-conscious of that fact. They lack the confidence to go up to a beautiful woman and ask her out which means it doesn't happen. Instead of thinking of the negatives you need to focus on the positives. You have experience and are more settled in life so you'll be a nice, stable boyfriend. Be confident and talk to any women that catch your eye. Smile, make eye contact and be friendly. Show her that you're a great guy and that age doesn't matter because you're the type of man she should be with.
Women are very independent these days and you might feel protective or domineering towards her if there's a big age difference. This is just going to make her even more aware of your age and it'll make her feel uncomfortable. Give her some space and don't pressure her into going out with you. When she does agree to a date don't decide on all the details and let her have a say in where to go or what to do. You need to treat her like an equal so she doesn't feel like she's going out with her dad.
Instead of going to places like clubs to pick up women try meeting them in more quiet places like a neighborhood bar or community event. The women in clubs like to party and won't give you a second look because they'll think you're too old for a place like that. They'll see you as a creep and avoid you because no one wants to date the guy who can't accept his age and desperately tries to act younger. By meeting women in a more laid back environment they're more likely to take you seriously because it's easier for you to have a conversation with them and show them what you're really like.
A beautiful woman gets hit on all the time and she knows that most men are only interested in her for her looks. If you want her to notice you and think you're different than all those other men then take your time getting to know her. Give her a compliment then focus on something else like a hobby you have in common with her. Avoid rushing into sex because she'll feel like you're using her. It might be frustrating for you but once she sees that you like her for who she is then she'll be eager to sleep with you.
You need to be confident and avoid drawing attention to your age. Instead work on your personality so that you seem like a nice, normal guy who's great to be around. Avoid trying to pass yourself as younger because it won't work and meet women in a casual setting where the two of you can talk and make a connection. Once she gets comfortable around you and seems to be interested then it's time to ask her out. She won't say 'No.' if you show her that you're boyfriend material.

Latest posts by Katy Benett
(see all)