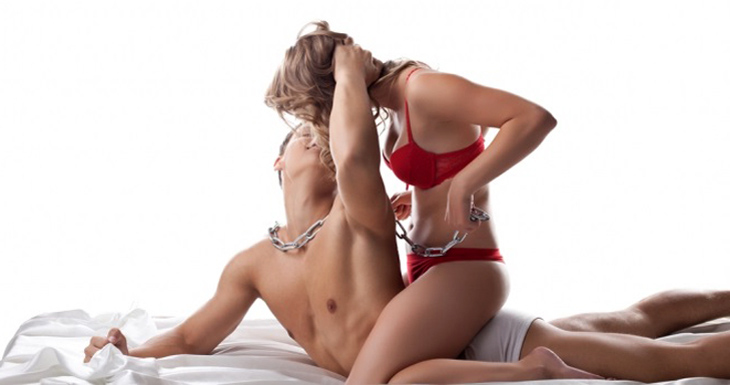 Women like sex just as much as men do but they're more shy when it comes to be open about expressing their sexual fantasies and exploring new ways to spice up their sex life. If your partner is like this then it'll be up to you to help her be more adventurous when it comes to sex but it can be easily done once you know what to do.
The best way to make your partner more adventurous is to start out slowly and try something sensual instead of sexual. If you go too far too fast then you might make her uncomfortable so start by doing something you haven't done before but isn't too dirty. You could try blindfolding her before giving her foreplay which will ease her into trusting you with new experiences. Once she's comfortable with this casually ask if she wants to take things further by saying "You really liked what we did last night, didn't you? I was thinking we could try something else." This lets her know that you enjoyed it as well and it gets her thinking about what else the two of you could do together.
If you're not sure what she'd enjoy then do a bit of research first. Explore new erotic fantasies together in a voyeuristic way before actually trying anything so that you can see what she's interested in without putting too much pressure on her. The main way to do this is to watch porn together and you can take note of which sex acts catch her eye. Start off watching the type of porn you'd normally watch together then go to a video that's a bit kinkier. If she's turned off by it then quickly go to something else and see if she likes that more. Once you've found something you think she likes then surprise her one night by doing something that happened in the video.
It's likely they'll notice that you're making changes to your sex life so make sure you let them know that you're happy with the relationship and that you're only trying to make things more exciting for the both of you. Also let her know that it's about exploring sex fantasies as a couple and becoming closer in your relationship. By phrasing it so that it sounds like it benefits both of you the more she's likely to be open to it because she'll want the relationship to be strong in all areas.
Pleasing her first is a sure way to get her to be more open minded in the bedroom. If you focus on your own needs instead of hers then she'll feel like you don't care about her wants or needs which will make her less likely to do anything for you. A night of hot sex that pushes her over the edge is something that's going to make her sex drive kick up a notch. If you make it all about pleasing her then she's going to enjoy it and will want to make you feel as good as you make her feel. Not only will she want to return the favor but she'll also be more interested in having another night of hot sex with you.
Making women more adventurous with sex is as simple as making the first move and showing her just how much fun sex can be. Take things slowly and get to know her sexual fantasies before turning them into a reality. Once you've eased her into being more open she'll feel more confident and will be more outgoing when it comes to sex.

Latest posts by Katy Benett
(see all)