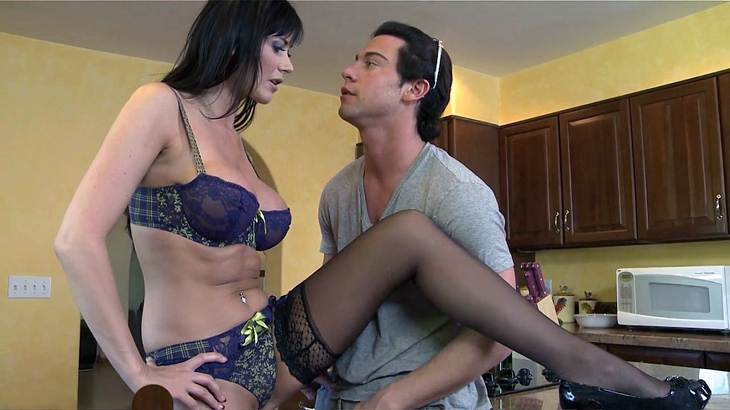 A mature woman is a thousand times sexier than a woman in her 20's because she's learned how to present herself and knows what she wants. She's sexy and confident which means you're attracted to her but you're not sure how to hook up with her because of the age difference. You have to make yourself into the man of her dreams so you can get her attention.
older woman is experienced and she doesn't want to waste her time with someone who acts like an immature college boy. She wants a sexy young man who knows what he's doing and who can make her feel good. Approach her with confidence and don't act like you're shy or nervous. Make eye contact with her, smile and start a conversation with her because being direct about how you feel will show her that you're serious about dating her. Be respectful and try to find out more about her so she can see that you're interested in her as a person and not just a hot woman you want to have sex with.
Your attitude isn't the only thing you need to focus on, your appearance will also make a difference when it comes to your success with older women. You want to look presentable, like the kind of man she wants to be seen with and spend time with. Dress appropriately and avoid anything that makes you look young or lazy like baggy jeans or faded t-shirts. You want to look classy so stick to wearing dress shirts and trousers and remember to shave and have regular haircuts. You want her to take one look at you and feel a desire to be with you.
The age difference between you and an experienced woman will be noticeable and she'll be as aware of it as you are but you need to act like it isn't there. If you draw attention to it then she might feel like you're uncomfortable with it and that you're embarrassed by your attraction to her which will make her lose interest in you. It's better to act like she's around the same age as you and only mention it if she brings it up. You should also avoid calling her a 'cougar' because she may find it offensive and instead refer to her as an experienced woman.
An older woman doesn't want to feel like she's with a kid that she has to look after so when you're getting to know each other you should show her that even though you're young you have a life of your own and you're independent. Tell her what you're doing with your life such as the type of career you have and what hobbies you like to do in your spare time. You can also talk about goals that you have and your plans for achieving them so she knows that you have ambition.
Wear clothes that make you look sexy and sophisticated and treat her with respect while also acting confident. Don't make a big issue about the age difference and come across like a well-rounded person who knows what he wants. An older woman wants a man she can relate to so present yourself as the man she's been looking for.

Latest posts by Katy Benett
(see all)