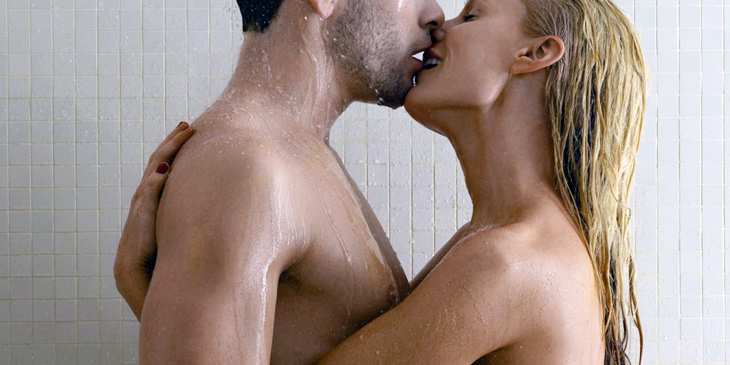 Shower sex can be fun and exciting if you do it the right way. It takes more than some enthusiasm and sex lube to make this an experience you'll love and want to do again and again.
1) Be confident
This is mainly for women because they tend to get more self-conscious when they're wet because their hair gets flat and they're usually not wearing makeup. Ignore how you think you look and be confident that you're enough to turn your partner on. Avoid doing things like trying to make your hair look better or constantly wiping the water off your face.
2) Make the room warm
You're going to be moving in and out from under the shower spray and you're going to get cold if you haven't made the room warm beforehand. Turn the thermostat up to make the room warm and keep the water hot to make the room steamy. Discreetly turn the water hotter when it starts to cool so it'll last longer instead of going straight for hot water.
3) Don't use soap
Start with foreplay by kissing and touching each other then move on to sex. When you're done you can keep the fun going by soaping each other up and getting clean.
4) Stick to one position
Showers are small spaces so moving around can be difficult and it's hard to keep in the mood when you're trying different positions. Stick to one position to keep things simple. A good position for shower sex is from behind. Have her lean forward slightly while bracing herself against the while you get behind her. This will also let you lean on the wall which will help both of you keep steady.
5) Go slow and steady
You don't want to injure yourself or your partner so avoid having hot, wild sex and instead have slow, passionate sex. Not only will this make sex last longer but you'll be able to focus more on the feeling which will make it more fulfilling. Spend time on the different sensations the water makes, such as making your bodies smooth and slippery and the way you lean into each other more to stay close.
6) Have everything ready before you start
You want this to be a fun, sexy experience so have everything ready before you start so you don't have to interrupt what you're doing. Clean the bathroom so it's an inviting space, turn the heat up and have a condom, sex lube and towels nearby so you can easily grab what you need when you need it.
7) Use the right sex lube
Make sure you're using the right sex lube because you need one that's silicone based. This is important because water can wash away other a water based lube or break down condoms like oil based ones. A silicone based lube won't wash away or damage the condom so it's the safest to use.
8) Focus on each other
Trying something new can be awkward or embarrassing and you're probably not going to be looking your best when you're soaking wet. Forget about how you look or how weird you're moving as you try to find the right position. Focus on pleasuring each other and making it a good experience.

Latest posts by Katy Benett
(see all)